Posted on 23, March, 2020
Last Modified on 31, March, 2021
New to creating artwork? Here are some helpful tips to ensure a seamless process!
What to Submit / Preferred File Formats:
When sending any artwork, make sure it is print ready and follows the correct sizing for the unit you have purchased. Each product has its own print specifications and templates based on material, and viewable area. We offer out templates in PDF format. If you are unable to open the template within photoshop, illustrator, affinity or even canva, please create your graphic within your program of choice to mirror the existing template. When using the templates, before submitting, make sure to turn off any template layers, if they are kept on, they may print in your final graphic!




&nbsp &nbsp &nbsp &nbsp &nbsp &nbsp &nbsp




What are raster files?
Raster Files: .JPEG, .PNG, .JPG, .PDF, or .TIFF | Raster files are files that composed of color blocks otherwise known as pixels. The minimum dots per inch (dpi) of an image or graphics should be 150. (the higher the dpi, the sharper the image) We can certainly accept a higher resolution, but just keep in mind that our printer output is set at 150, so it is not necessary to have anything higher than 150 dpi.
What are vector files?
Vector Based Files: .AI, .EPS, .SVG, or .PDF | Vector files are files that are built by algorithms that plot out points on a grid. These file types are preferred when designing large format graphics, as they can ultimately be sized to ANY size without losing quality!
HOW TO KNOW IF YOUR FILE IS VECTOR: Typically the file extensions listed above are a key indicator that your file is a vector file. However, there are cases when that is not true. To check if your file is vector, you may open your file within adobe illustrator or Autodesk Affinity and hit CTRL+Y and it will show outlines and look like an uncolored coloring book page. Boom, it's vector! Another great way to check is just to simply zoom into your graphic as far as you can – if it looses quality and looks pixelated, it isn't vector!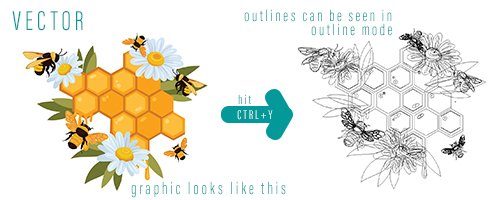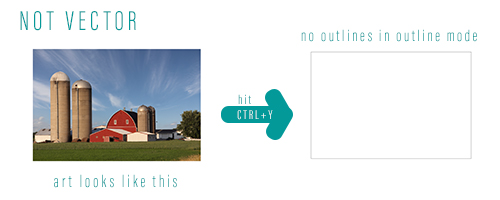 Editable File Types – Recommended!
It is recommended that you submit editable, layered files. Doing so is very helpful to the artwork reviewers. For example, there are times when a logo may be slightly out of the safe area on a banner, having an editable file would allow our reviewers to go ahead and correct that without asking you to submit a whole new file, delaying your order. We want to get your custom graphics in your hands as fast as possible!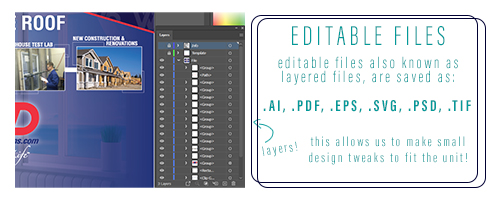 What not to Do:
Any images, artwork or graphics files created in or sent from Microsoft Word, Publisher, PowerPoint are not usable. Pictures from phones should also not be sent as artwork (in some cases they can be used, but more often than not, they are not good enough quality to print) As a general rule of thumb, do not use an online artwork file converter, this will allow you to save with as a different file type, but it will cause problems with the artwork and most of the time, renders it unusable.

Graphic Design Assistance:
If you are new to designing artwork and need help, Post Up Stand offers graphic design services for an affordable rate! We are here to help you see your vision through to fruition! If you are looking to have our designers create your artwork, we ask that you please send high resolution graphics in the file types mentioned above. We also ask that you send any brand guidelines or style guides your business may have. From there, our designers will assist you until you approve your design. You will be given a copy and we will keep your design on file for one year. If you would like to inquire about graphic design services, please call us, or email design.postup@postupstand.com
Still Need Help?
No sweat! We understand that not everyone is a pro when it comes to graphic knowledge! Please do not hesitate to reach out to us at 1-800-935-3534 or email us at art.postup@postupstand.com and an Artwork Processing Representative will assist!