Banner Stands for Trade Shows, Conferences, Events and More
Browse All Products
---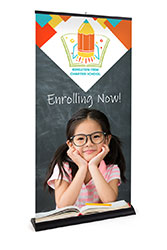 Custom Printed Banner Stands for Marketing and Advertising
Make your business visible with quality printed banners and signage solutions that will catch the eye of prospects or attendees in high-traffic trade shows or special events. Post Up Stand offers an array of banners, from classic retractable banners to banners that simply pop up and are ready to go the moment they hit your doorstep. Stand out from the crowd with an illuminated or scrolling banner, or pair your banner with a custom printed podium for a more complete look.
Just started a new business or need to find a complete branded display solution to fit a trade show booth or other event space? We offer custom banners with quality, vibrant prints to boost your visibility and drive traffic to your business. Your message is our mission, so we are here to help you achieve growth for your business or organization through custom printed solutions.
Take a stand and increase the visibility of your brand with custom vinyl and fabric banners. We offer quality retractable and non-retractable options. Explore our top-of-the-line branded display solutions to find the best fit for your project. Looking for more than just a banner? We offer a selection of packages ranging from backwall and banner combinations to dazzling LEDs to help you outshine the competition.
A Quick Look At Quality Banners and Display Solutions To Promote Your Business
Post Up Stand offers a wide range of customized marketing displays, retractable banner stands, trade show displays, pop up banners, backdrops and personalized table covers to hospitals, real estate open houses, art galleries, restaurants, retail stores, schools, sports arenas, college campuses, and financial industries. Our banner selection consists of a variety of banner stands that have been carefully selected with you and your marketing goals in mind. Find the right product at the right price to enhance your brand messaging:
Retractable Banners including premium and budget options as well as stands for both indoor and outdoor use.
Pop Up Banners with a pre-assembled, collapsible backwall that comes ready to go with your banner already attached to the frame!
X-Frame Banners featuring our customer-favorite stay-flat vinyl that attaches to your frame with pre-installed grommets.
Tension Fabric Banners from fun shapes to banners that illuminate to draw attention to your business.
Specialty Banners including scrolling, acoustic, and digital options.
Telescopic Banners in multiple sizes with single and double-sided options available.
Tabletop Banners that are perfect for when you have limited space but still want to make a big impact!
Hanging Banners with options including small vinyl banners and parade banners to large banners that hang above your exhibit space to help you stand out.
Replacement Banners & Hardware for when you don't need to replace your whole product but instead are looking for an affordable way to update your previous purchase.
Need Help Designing Banners or Have Artwork To Upload? Our banners are designed to take your business to the next level, from in-store displays to outdoor events. Our customer service team is standing by to answer any question you may have, from product selection to design in order to help you reach your goals.
If you choose to do it yourself, begin your search online by sorting banners based on size, product name, or price. You may also choose to add design services from our talented graphic designers to your purchase. Our designers can create an amazing display graphic that meets your needs. After you complete the checkout process, your new advertising solution will be just days away.