Digital Signage
Browse All Digital Signage
Browse All Products
---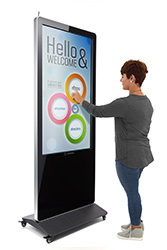 Digital Signs for Businesses, Facilities, and Events
Take charge of your messaging with Post Up Stand's wide variety of digital signs, banners, kiosks and more! Digital signs offer much more flexibility with the content that can be displayed, compared to traditional printed banners and signs, due to the latest software, as well as your imagination. Refreshing content is simple and intuitive, offering the flexibility to update messaging on the fly, without the need to reprint between events and campaigns.
Our considerable selection of digital signs includes:
Touch kiosks
Non-touch kiosks
Floor standing displays
Counter top signs
Banner stand with integrated digital screen
Charging stations with custom graphics
TVs with 4k resolution
What Makes Digital Signs So Valuable?
Digital signage allows you to create impressive displays, informative kiosks, and interactive experiences that are difficult to replicate with any other display type. Museums and Art Galleries can create educational content that can be provided to visitors in a manner that maximizes engagement. Trade show event attendees can experience what a brand has to offer through curated videos. Retail locations can advertise multiple products and services with revolving slide shows. And best of all, select digital displays offered by Post Up Stand include custom printing options. This gives you the flexibility of digital signage paired with your own unique branding.
Digital sign displays also allow customers to interact with an interface to complete tasks like checking in to an appointment, entering contact information, and exploring product offerings. This can speed up certain processes and create a better flow in your office, trade show, or job fair. Digital sign-in kiosks have become the norm in many industries because they work for both the company and their customers, making them a great investment for any school or business.
If you're not ready to give up on your traditional printed display, digital signs and kiosks make a great accompaniment to banners, backdrops, signs and more. Pair a digital kiosk or charging station with one of our packages for a complete trade show or exhibit booth with a bit of digital flair!
Many of our digital signs and kiosks offer affordable warranties, so you can protect your product and ensure its functionality for years to come. Not sure where to start? Give us a call or chat with one of our customer service representatives and we will help you choose the digital sign that's right for you.