Event Accessories - Everything You Need for Your Big Day
Browse All Event Accessories
Browse All Products
---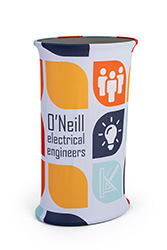 Complete the Look with Event Accessories
You have your banners and backdrop for your next trade show or marketing event, but now you need to put the finishing touches on your exhibit. We've collected a selection of the most popular trade show accessories to help you polish your brand's image, including everything from table covers and trade show counters to lighting and giveaways. Make the most of your exhibit space by finding the perfect accessories, within any budget, to attract more customers and generate more leads.
Grab event attendees' attention with a custom printed table cover or trade show counter that matches the aesthetic of your booth. Design your own or work with one of our Graphic Designers to help bring your vision to life for only $45 an hour. We also offer custom printed flooring and event technology, including tablet and iPad holders and charging stations, to help attract the crowd and give them a much-needed resource to charge their mobile devices. Complete your booth with a literature holder and lights that clip onto your banner or backdrop to help your artwork dazzle. And don't forget your travel case! Not sure which case is best for your banner or backdrop? Contact us and one of our customer service representatives will help you choose the case that's right for you.
Accessories to Complement Your Trade Show Display
Table Covers: Choose a stock color, pair a table runner with a solid-color throw, or design your own custom printed polyester or antimicrobial table cover to bring your booth together. Need a table? We offer those, too, as well as stools, lecterns, and portable display shelving. Shop furniture.
Trade Show Counters: Add a custom printed podium to help complete your trade show exhibit. From sustainable wood and illuminated options, to dye sublimated fabric on easy-to-assemble counters, we have a trade show counter that will look good in any space.
Literature Holders: The best way to display your company brochures and pamphlets in a professional manner is with a literature holder. From floor standing to table top, with or without custom graphics, Post Up Stand offers an option for everyone.
Travel Cases: The perfect way to store, protect and transport your trade show display from show to show. We offer cases for many of our most popular banners and backdrops – from hard plastic cases for shipping to canvas carrying bags for easy transportation.
Trade Show Flooring: Custom printed mats and rugs are a great way to tie your space together, giving you a polished, professional look.
Event Technology: Shop charging stations to help draw in the crowd, as well as iPad and tablet holders and TV mounts. We're here to help you bring a little tech into your exhibit.
Games & Giveaways: Prize wheels, ballot boxes, and raffle and drum tickets can help you gain attendee attention, especially when paired with a promotional item such as coasters and magnets.
Display Lighting: Highlight your message and draw the attention of passersby with full range of halogen, incandescent & LED lighting.
No matter the size of your event, show off your display with our custom accessories to make your next show a success. You'll be amazed to see what these accessories can add to the look and feel of your exhibit space!