Trade Show Display Packages
Browse All Products
---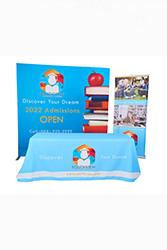 Save Time and Money with a Trade Show Display Package
At Post Up Stand, we want to offer you a complete solution for all your special events. That's why we have curated a selection of packages featuring some of our best-selling products bundled together to help you save money, and to suit your advertising and marketing needs. Are you looking for an easy way to create an eye-catching display and to make a positive impact with a consistent message across your display booth? Our packages have been put together with you in mind in order to help your brand stand out.
Post Up Stand has made the ordering process seamless by selecting the products we know work best together and bundling them together so you're able to purchase everything you need with one click. Simply upload your artwork and we'll take it from there! Or if you need some design help, our graphic design experts will be standing by to help bring your vision to life for a flat fee of $45 an hour, which is well below the industry standard.
Our trade show display packages consist of some of our most popular products bundled together to maximize savings and streamline the decision-making process. We know shopping for trade show display can be overwhelming, which is why we have selected some of our most popular products and offered them at a reduced rate than if you were to purchase them all separately. This also helps with the graphic design process, allowing you to coordinate graphics to create some truly unique trade show displays.
These display packages are not only perfect for trade shows and conferences; we offer bundles that work well for other events like job or college fairs, farmer's markets or craft fairs, athletic events, concerts, and more. Questions about our packages or the services we offer? Contact us and we'll be more than happy to help!