Make Your Next Event a Success with These Smart Solutions
Browse All Event Solutions
Browse All Products
---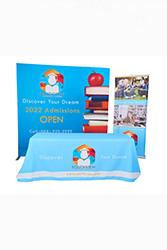 Everything You Need to be the Star of the Show
You want to be at the top of your game for your next event, and that starts with having the right display to tell your story. We offer various solutions to help make your next event a success, from full-size exhibit booths to stages that will help you rise above the competition.
Our Event Solutions Include:
All-in-one exhibit booths made for 10 x 10 or 10 x 20 trade show booth spaces. These high end displays feature backwalls with stunning silicone edge graphics to make your artwork pop. The backwalls are paired with other must-haves, including reception counters, workstations, and monitor mounts to allow you to bring multi-media you're your display.
Display packages made to save you money without compromising on style. We've gathered some of our best-selling products and made them into cost-saving kits that allow you to fit out your event space for less. Choose from backwall and banner combinations, to packages with table throws or podiums to give your exhibit a cohesive look that will turn heads.
Event stages that allow you to turn any event into one to remember. Our event stage kits come with everything you need, including railings, stairs, ramp, and stage skirts. Add a backwall, banners, or a custom printed podium to give your assembly, graduation, or other special event a bit of extra flair and professionalism. Available in two heights and three different widths.
3D displays that help bring dimension into your event space. Funnels, illuminated towers, arches, and more help give your trade show booth a unique, memorable look that will be the talk of the event. Mix and match different shapes and styles to give guests a branded, multi-dimensional experience.
Easels and gridwalls allow you to display products, artwork, signage, and more to bring the spotlight on what you have to offer. Adjustable easels in different styles let you choose the solution that's right for you, while metal gridwalls can be set up to create an immersive experience for guests at your next art show.
Portable display shelving for stylishly showing off your product offerings. Choose from collapsible shelves with built-in lights to custom printed solutions, including sustainable substrates.