Custom Printed Hanging Banners for Indoor and Outdoor Use
Browse All Products
---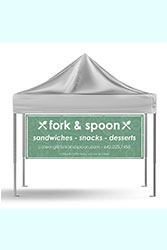 Hanging Vinyl Banners for Indoor and Outdoor Marketing
Display your message with high-quality custom hanging banners available at Post Up Stand. Our hanging banners are perfect for drawing attention to your message and making an enormous impact in promoting your brand. Available in many different styles, from street pole and tent banners to parade banners and standard vinyl signs, we have an affordable hanging banner for almost any use case. These custom printed banners can be used at trade shows, retail stores, outdoor functions, and so much more. Choose your size with our Dynamic Dimensions banners, which allow you to choose the exact size you need, and are available in vinyl, mesh, and fabric.
Our hanging banners selection is perfect for primary schools, or colleges and universities. We offer parade banners for promoting your students, as well as breakaway banners to add extra excitement to sporting events. Street pole banners can be hung around campus to promote your school, while hanging tent banners are perfect for outdoor events. Looking for simple, affordable signage for both indoor and out? Our vinyl, mesh, and fabric banners can be customized to your specifications. Custom printing is available on all our hanging banner selections to help your message stand out.
Outdoor events such as farmers markets or outdoor trade shows can benefit from hanging signage, including tent banners and headers, as well as custom sized vinyl and mesh banners, available with or without grommets, to make for easy to hanging on fences and other highly visible areas. Street pole banners can be used to advertise upcoming events, such as festivals and craft fairs with your custom artwork to help you catch the eyes of the passersby.
Our online designer tool can help you create show-stopping hanging banners using your brand's colors and imagery. Or, use one of our pre-loaded icons to add a fun flair to your design. With over 150 fonts available, you can customize your design to your heart's content until your message looks the way you want it to! Still need help with your artwork? Our graphic designers are standing by to help you create a picture-perfect design for a flat rate of only $45 an hour. Your message is our mission, and we will do what it takes to get that message seen!