Pop Up Banner Stands with Custom Printed Graphics - Easy Set Up
Browse All Products
---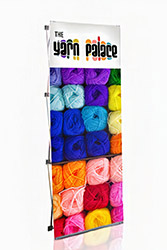 Pop-up banners are a popular style of trade show display designed to make a splash and bring awareness to your presence at trade shows, conferences, in-store events or exhibitions. Post Up Stand's Quick Fabric pop-up banners are used at different types of events with great success as a result of how easy they are to setup and how impressive their dye-sublimation graphics look.
Each high-quality pop-up display comes with its own canvas carrying bag that fits the entire frame. From trade show booths to press conferences, media events, fundraisers, special events and even weddings, Quick Fabric displays from Post Up Stand are designed to make a significant impact.
WHAT IS A POP UP BANNER STAND?
These types of displays get their name from their ease of set up. The collapsible frames pull apart, or 'pop up' in just a few seconds. The displays come with a banner attached to the frame, making it quick and easy to set up and use at all types of promotional events from trade shows, to press conferences, events, weddings and more. Leave the banner attached to the frame when storing the display for quick set up and disassembly each time.
POP UP DISPLAY USES
Trade show booths
Press conferences
Grand openings
Fundraisers
Photo backdrops
Weddings
...and so much more!
HOW WE PRODUCE OUR QUICK FABRIC DISPLAYS
Our Pop Up Banner Displays feature high-quality materials that Post Up Stand customers expect from a great display.
Stretch fabric:
The fabric banners that come attached to the frame of our Quick Fabric displays are made of a heavy duty, polyester fabric material. These fabric banners are wrinkle-resistant, which is why you can collapse the frame with the banners still attached for quick storage of your display.
The polyester fabric is machine washable in cold water and should be tumbled dry. The hook & loop strips are sewn to the back of these banners to make it easy to detach from the frame and easily install replacement banners.
Dye Sublimation Printing:
The high-quality stretch fabric banners on our Quick Fabric Displays features dye-sublimated printed graphics. Dye-sublimation produces vibrant, long-lasting colors because the process makes infuses the ink into the polyester material is if it were woven into the fabric. Dye-sublimation prints "into" the material, not on it. We have two types of dye-sublimation custom printing:
We print on transfer paper and insert with the fabric into a heat press, finishing the sublimation process by putting the graphics into the fabric from the transfer paper.
We have also invested in direct-to-fabric printers that penetrate the fabric with ink directly for a sharper, clearer image of your graphics and colors.
Dye-sublimated fabric graphics will not fade or wash off by washing the stretch fabric banner in cold water and tumbling dry to clean.
Pop Up Stand Frame:
Pop-up frames are collapsible and made of durable aluminum. The collapsible design of the frame makes for easy set up without a need for tools. Using aluminum as the material for the pop-up stands allows for more usage, giving them durability to last long without major wear and tear.
One of the main benefits of these displays is the frame's ease of use, which is helpful at the conclusion of trade shows and events. After long hours at trade shows and marketing events, self-assembled displays end up being disassembled in a hurry and often incorrectly, unnecessarily damaging the item. The aluminum pop-up banner stand frame collapses easily, so it can be dissembled in a hurry without causing damage during the rush to break down and pack up. The banner also remains attached to the frame so you're ready to go the next time you use it!
TYPES OF POP UP DISPLAYS
Options for our Quick Fabric Displays range from easy setup vertical banners with vibrant graphics, to wider displays that serve as trade show backdrops backwalls and press conference backdrops. Quick Fabric pop-ups can also be used as table top displays, bringing the easy-to-use frame and dye-sublimated graphics to an even more portable form that can be used on tables at events with limited space.