Retractable Banner Stands - Custom Printed Roll Up Banner Stands
Browse All Products
---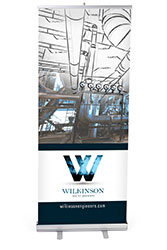 Retractable Banner Stands are Tried and True
Need a custom retractable banner to announce your presence at trade shows, for an in-store display, or at a conference? Our pull up banners are the perfect solution to kick off your event and add a unique touch to your marketing efforts. Roll up banners are a great way to set your brand apart in a busy setting, and are the most convenient of all types of banner displays. Post Up Stand offers some of the most popular banner display stands widely used in retail store displays, trade shows, shopping malls, churches, sporting events, airports, salons, conferences, and museum exhibits. Pair your retractable banner with a custom printed backdrop to complete the look at your next event space.
How To Set Up A Retractable Banner
Retractable banner setup is simple. By definition, it retracts into the base, most commonly using a spring mechanism to pull the graphic around the roller for storage. The process goes as follows:
Remove the stand and support pole from the bag or case: It helps to have all the pieces and parts in front of you. Gather all your materials, layout and make sure you have everything you need to properly assemble your banner stand.
Swing out stabilizing feet from below stand (if applicable): Some retractable banner stands, including our Budget Banner Stand line, have stabilizing, swinging feet located below the base. Before connecting your support pole, pull out the feet and set them into position to give the base the correct support before going further into the assembly process. If your banner stand does not have stabilizing feet, skip this step and move onto the next.
Connect the sections of the support pole and place it in the slot of the stand: Before pulling the banner up from the base of the stand, make sure you place the support pole into the base completely put together.
Slowly pull up banner from the base: With your base properly secured and the support pole installed, pull up your banner slowly from the base. Never pull the banner out of the base too fast or you risk damage to the track or the poster.
Connect banner to support pole: After pulling the banner to the assigned height, attach the poster to the support pole, most commonly using a small hook on the bar connected to the top of your banner. Make sure the poster is secured to the pole and is taut.
Shop at Post Up Stand and take advantage of a carefully curated selection of banner stands to make a bold impact with your brand messaging. We help companies of all sizes achieve their advertising and marketing goals through quality hardware and eye-catching, custom printed banners at a great price point. Order online today and upload your artwork for a quick turnaround on your next piece of promotional signage!