Sign Displays for Effective Communication
Browse All Products
---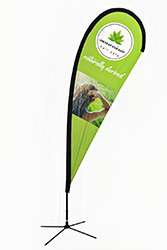 Communicate Clearly with Custom Printed Signs
Signage is one of the most important marketing tools to attract attention and turn passersby into potential customers. At Post Up Stand we offer a variety of custom sign designs to promote your events, provide information, and give direction to identify your brand. Capture the moment and improve the customer experience by sparking interest, curiosity, and providing a visual cue to your prospective customers. Our Signage Display Solutions include cafe barriers, real estate signs, yard signs, sidewalk signs, window clings, custom outdoor flags, frames & stands, magnetic signs and printed substrates to help you reach your audience. Your guests or prospective clients should find your custom signs informative and engaging, resulting in brand recognition.
Whether you need a tent and flags for a farmers' market or are looking for something to hang on the wall of your restaurant or retail store, we have custom signage solutions for everyone. Upload your own artwork or work with one of our talented graphic designers for only $45 an hour to create a memorable, one-of-a-kind sign.
Why You Need Signage
Wayfinding: Custom signs ensure your guests have clear direction to key locations.
Define an Event Space: Custom signs can help designate event areas within the venue.
Capture the Moment: Capture the attention of your audience at strategic locations where you have the most foot traffic, for example, escalators, door entrances and exits, or in the lobby.
Brand Exposure: Think big and make your event memorable by attracting and directing the attention of prospective buyers who are ready to make a purchase.
Showcase your sponsors and advertisers on your signage display to encourage more support in the future.
Identifying Your Signage Needs
Choosing a trusted and effective signage display solution company can sometimes be overwhelming. At Post Up Stand, we have the experience to provide you with compelling display solutions you need when investing in brand image to enhance your overall business.
Below are few steps to identify your signage needs:
What is your budget?
Who is you're audience?
What do you want to accomplish?
What is your content strategy?
Once you answer these questions, you'll be well on your way to choosing the sign that's perfect for you and your business. If you still need help, don't worry! Our knowledgeable and experienced customer service representatives are standing by to answer any questions you may have.