Specialty Trade Show Displays
Browse All Specialty Products
Browse All Products
---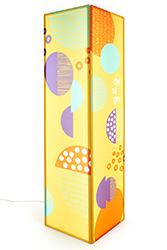 Specialty Trade Show Displays and Safety Products
Post Up Stand offers a wide variety of specialty trade show displays to help with your business, event, or facility's needs. Our trade show tower displays make quite an impression with their sheer size and high-quality printing. We offer illuminated towers and triangles, which pair perfectly with our illuminated cube for a three-dimensional display that is sure to wow the crowd. Replacement graphics are available for many of our 3D displays, so you can easily and affordably print between shows without having to buy an entirely new unit. This is a great way to get the most out of your one-of-a-kind purchase. Keep your tower, arch, or illuminated cube as part of your marketing arsenal for years to come.
We also carry an array of safety products, such as hand sanitizer dispensers, pre-printed signage, and sneeze guards. These safety and protection products work well in all sorts of environments like trade shows, educational facilities, and businesses. Order see-thru sneeze guards and acrylic countertop panels for additional safety for you and your customers. Museums and libraries also benefit from products like sanitizer dispensers and countertop acrylic shields. We even offer custom printing on select clear room dividers!
What sort of specialty displays do we offer?
Trade Show Towers - with impressive custom printing
Trade Show Archways - great for booth entryways
Illuminated 3D Displays - bring a little visual interest to your next event
Cardboard Cutouts - custom shapes and sizes available
Hand Sanitizer Dispensers - wall-mounted and automatic dispensing
See-Thru Sneeze Guards - perfect for creating barriers between customers
Banner Stands with Sanitizer Dispensers - tension fabric banners with integrated mount
Create a trade show booth display that is both impressive and practical with specialty and safety products from Post Up Stand! Need help? Contact us and one of our knowledgeable customer service representatives will help you pick out the specialty display and safety and protection products that fit your needs.