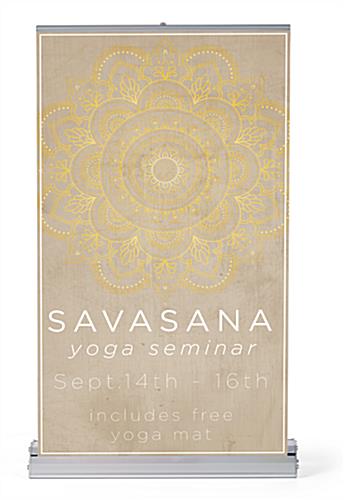 Custom full color graphic
Durable and portable aluminum stand
Perfect for table top, desktop or any counter space
Standard Tabletop Retractable Banner Stand
$62.99
/ Each (

USD

)
SKU:

I000721
Customization Options
Checking this box will add 1 hour of design time to your order. Design time over 1 hour will require additional charges. A Designer will contact you within 1 business day to start the design process.
Copied to clipboard
Please press Ctrl+C (or Cmd+C) to copy.
Optional Accessories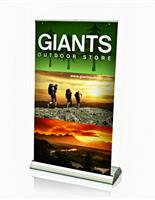 Standard Tabletop Retractable Banner Stand with Custom Printed Graphics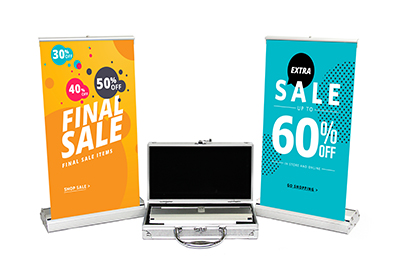 Tabletop Retractable Banners
The tabletop retractable banner is a convenient, portable promotional tool that you can effortlessly take with you. It is a lightweight aluminum retractable stand that encases your custom high-quality print for an accessible and portable tabletop display. Use for your next upcoming event or for a personal birthday party or private event. A custom desktop banner sets up easily which makes preparing for your trade show exhibit hassle-free and budget-friendly. Available in mutliple sizes with or without a convenient aluminum carrying case.
---
How To Use the Designer Tool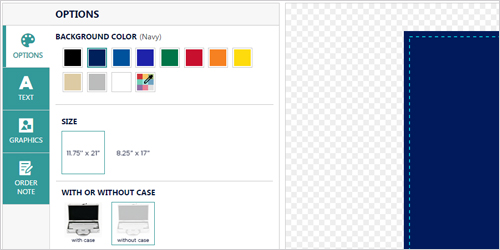 1: SELECT COLOR & OPTIONS
On the OPTIONS tab:
Background Color:
Click on a color square to fill the background with a solid color. Use the Advance Color Picker tool to select a custom color by dragging cursor or entering a HEX value.
Size:
Available sizes are 8.25" x 17" and 11.75" x 21".
Case:
Available with and without carrying case.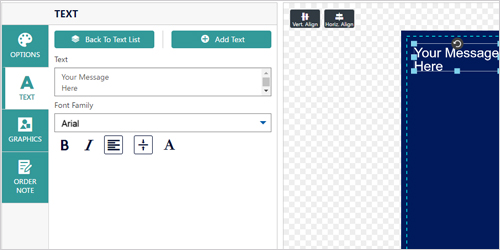 2: ADD & EDIT TEXT
On the TEXT tab:
Select 'Add Text' to create a new text box.
Replace 'Add Text Here' with personalized message.
Click 'Font Family' drop down menu to choose from different fonts.
Additional options include bold, italic, horizontal & vertical alignment, and color.
You can add more text or select 'Back to Text List' to edit existing text boxes. You can also use the navigation arrows to toggle between text boxes.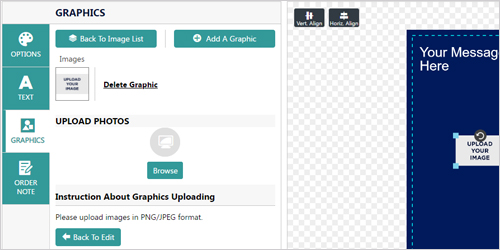 3: UPLOAD CUSTOM GRAPHICS
On the GRAPHICS tab:
Select 'Add A Graphic, 'Upload Photos', and then 'Browse' to choose an image from your computer.
Choose your graphics (min. 150 ppi) in JPG, PNG, AI, EPS or PDF format.
Once your image is on the canvas, use your cursor to move, resize, rotate, etc.
The tools (outlined below) provide additional functionality
Select 'Back to Edit' to adjust size, placement, and rotation of images.
Note: If a file is too small or stretched too far to meet print requirements, a red outline will appear around the graphic.
TOOLS & MORE
Blue dashed lines on the Designer canvas indicate safety lines. Keep all important text and graphics inside this area. These will not print.
Tools available include:

Vertical & Horizontal Alignment: Moves selected object to center.
Scale: Incrementally increases or decreases the size of selected object (can also be performed by dragging object from corners).
Move: Incrementally moves an object up, down, left, right (can also be moved with your cursor).
Rotate: Incrementally rotates an object (can also be performed by clicking and dragging with your cursor).
Rotate 45° Clockwise or Counterclockwise: Great to keep objects at right angles.
Place Order: Moves an object forward or backwards in relation to other objects on the canvas.
Trash: Deletes selcted object.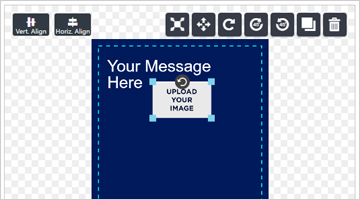 ---
Features of Retractable Tabletop Banners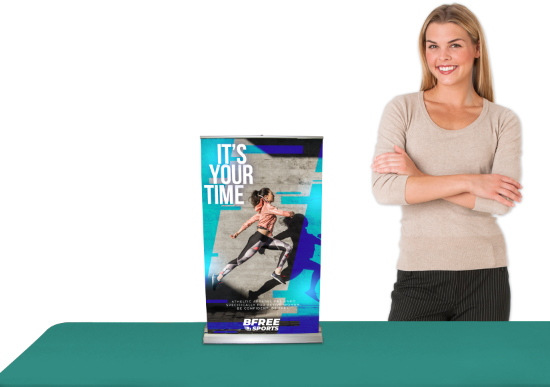 Pull-up tabletop displays are very similar to the traditional floor style we are used to seeing as advertisements in shopping centers, at events, and more. Here are a few characteristics of these small, but mighty displays.
Size
Available in two sizes: 8.25"w x 17"h or 11.75"w x 21"h - the small size makes these the ideal portable advertising tool.
Material
Most traditional floorstanding banners are printed on a vinyl material that is too heavy for the smaller retracting mechanism of tabletop displays. These banners use a beautiful, lightweight material that offers a semi-matte finish with excellent color saturation.
Assembly
Similar to our other retractable banners, your tabletop display will arrive ready to use, with the banner pre-installed. Simply remove the banner from the case, if you've ordered one, snap open the top, grab the upright pole, pull the banner up, and set in place with the pole. Takedown is just as easy!
---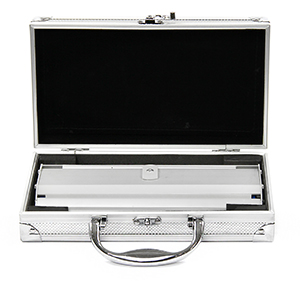 Available With Sturdy Aluminum Case
Retractable countertop displays are offered both with and without a travel case. The travel case is crafted primarily from aluminum with reinforced corners and inner foam padding. The case features a latch to secure it closed and a handle for your convenience
Reasons to Consider a Carrying Case
Your tabletop banner needs to be transported between multiple events or locations
The tabletop banner will not be in continuous use and will be stored for some period of time
You are ordering a few or more displays and having each banner stored in a case will provide convenience and organization
---
Filename
: UP_825 x 17_template.pdf (519.72 KB)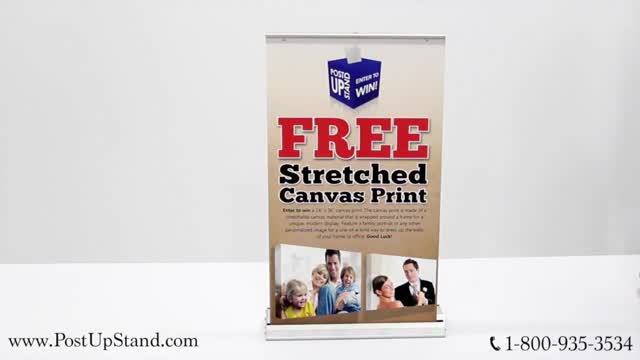 Table Top Banner Assembly from Post Up Stand
0:50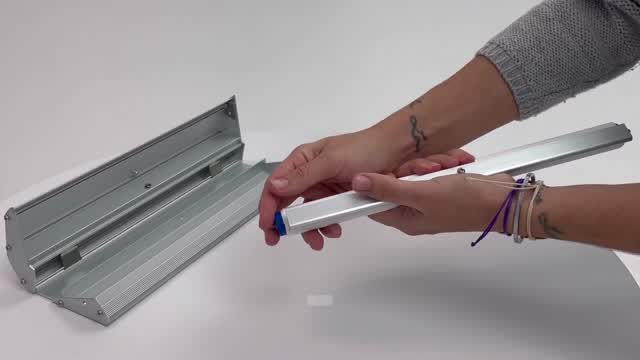 How to re-tension table banner
1:02