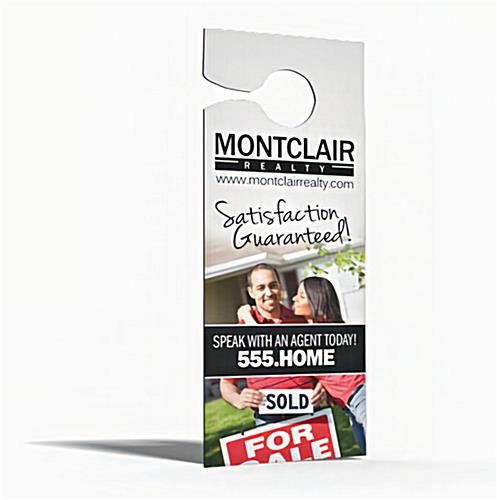 Great promotional item!
Custom print on durable PVC
3.5"W x 8.5"H
Available in set quantities from 50 - 500pcs
Custom Door Hangers
$116.99
/ Each (

USD

)
SKU:

I006871
Customization Options
Checking this box will add 1 hour of design time to your order. Design time over 1 hour will require additional charges. A Designer will contact you within 1 business day to start the design process.
Copied to clipboard
Please press Ctrl+C (or Cmd+C) to copy.
Custom Door Hangers
Custom Door Hangers are a surefire way to get your message noticed in an affordable way. Custom printed door hangers get attention because they are presented to your audience in area they interact with every day. Share any message about your business, fundraiser, campaign, event or more with your local audience right at their door with a custom door sign that hangs right from the handle. Upload any design and message, have it printed on 3.5"W x 8.5"H durable sign material. Choose a quantity that fits your marketing campaign needs and budget. Reaching your audience and growing your marketing potential has never been easier and more affordable than with Custom Door Hangers.
Custom printed door hanging signs
Full door hanging sign measures 3.5"W x 8.5"H
Printed with latex graphics on durable PVC sign material
Upload any design and hang it on doors anywhere
Order in a quantity that suits your needs
Used for political campaigns, business advertising, local fundraisers, events and more
Cost effective way to share messages, target customers and grow business
Easy to use custom signage option that gets noticed
Affordable Direct Mail Marketing
Direct mail marketing is still a viable marketing channel.
Direct mail marketing can get expensive and cultivating or purchasing a prospect list can be expensive itself.
Custom Door Hangers are an easy and affordable alternative to a direct mail marketing campaign. You're equally as likely to reach your audience because of the placement of your custom printed door hanging sign, but without the cost of postage and possibly acquiring a prospect list.
Benefits
The main benefit of using Custom Door Hangers as a direct mail marketing campaign method is that they sit on a door handle, which people operate every day. There's the potential that they grab it from the door and throw it away with other mail they deem unnecessary. But in order to get it off the door, they must pick it up and that in theory increases the likelihood that they read your message.
Utilizing Custom Door Hangers as a direct mail marketing tool should also be more cost effective based on postage and trying to acquire prospect lists.
Drawbacks
The reason direct mail campaigns work so well is because of those prospect lists and you're likely going to send out a higher volume of advertising with those campaigns, versus a Custom Door Hanger.
Your reach may be smaller with Custom Door Hangers and there's a lot of 'do it yourself' involved in using them as a direct mail campaign. The main goal in using custom printed door hanging signs is to keep advertising costs down and ensure your message gets in front of people.
Custom Door Hanger Tips
Uses
There are several uses for Custom Door Hangers that are common and highly effective.
Promoting local business or service
Bringing awareness to local issues
Political campaigns
Fundraising campaigns
Promoting events
Wedding announcements
Custom 'Do Not Disturb' signs for weddings, events and more
Call to Action
Whether you're promoting your business, a pollical campaign, ballot issue, fundraiser or even sending a wedding announcement, don't forget the call to action on your Custom Door Hanger.
Give them a website to visit, a phone number to call, something to read about or saving the date or sending an RSVP. Custom Door Hangers are affordable, effective and easy to use but don't send a design to be printed without a purpose of the campaign. This will significantly hamper your ROI and response rate.
Make Custom Door Hangers Work for You
Custom Door Hangers are a more cost friendly alternative to direct mail campaigns, even though sending marketing materials through mail is easier and probably extend your reach.
Where you save on cost on direct mail marketing ideas, you will have to make up in hard work. If using custom printed door hanging signs is your plan to promote your business or community event or issue, going door-to-door to hang these signs is the best way to get as much reach as possible. You can order in any quantity that fits your campaign, announcement and budget. Just be prepared to save money with this direct mail marketing alternative but work a little harder to see a return on your investment. The good news is that the cost is lower, so your returns have the potential to be greater based on the spend.
Filename
: doorhanger_specsheet.pdf (177.78 KB)
Filename
: doorhanger_template.pdf (833.34 KB)