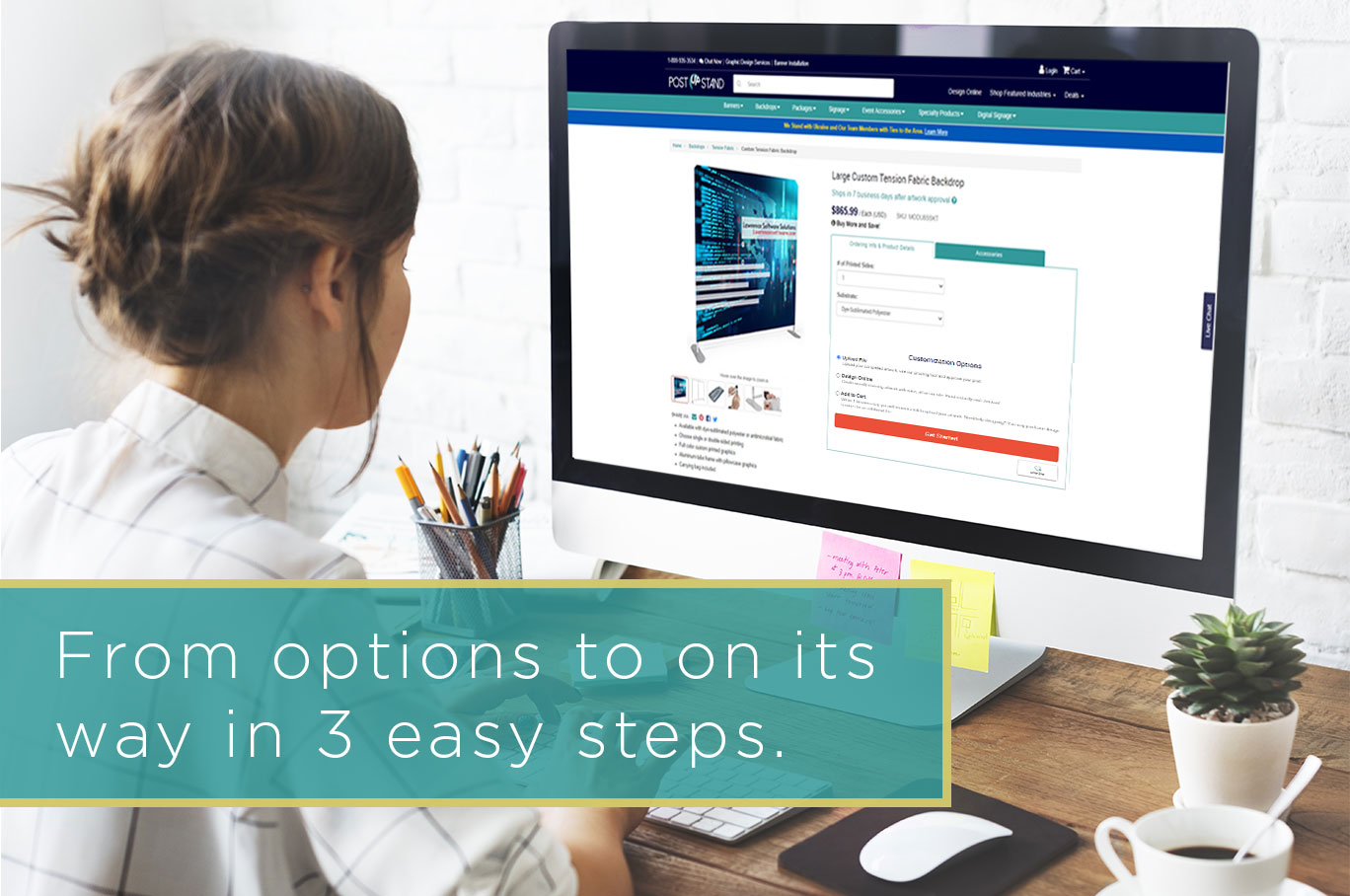 At Post Up Stand, we're all about giving you the best experience possible. That's why we've broken down the ordering process into three simple steps. From product selection to checkout, here's how you order from us:

Search Product Selection: Browse and choose from our vast product selection. Feel free to utilize our live chat option, email sales@postupstand.com or call us at 1-800-935-3534.
Product Specifications: Choose the specifics of product in the drop-down areas when applicable, such as size, material and additional accessories or other color types.

We've given you three options when it comes to customizing your products with your unique artwork, which you'll see on the product page. These options include uploading a completed design, designing online with our interactive design tool, or simply adding to cart with the option to add design services. You'll find more information about each option below:
Upload File: If you have a design ready to go you can simply upload your finished artwork through our easy to use online tool. This will allow you instantly proof your design right on our website to approve it for printing.
Design Online: We are proud to offer you the option to design your artwork online using our powerful interactive designer. Customize colors, fonts, icons, and add images and QR codes to make your design one of a kind.
Add to Cart: Not ready to design? No problem. Simply select 'Add to Cart' and you'll be sent a link to upload your artwork later. If you're looking for design services, this is where you would select to add that on for our low fee of $45 per hour.

Checkout: Proceed to checkout - you can check out as a guest or register for an account to make future shopping even easier! Please Note: If you will be placing an order with tax exemption you will need to be signed into your account. For more information on tax exemption, visit this page.
Shipping & Payment Info: Enter your shipping address & choose your shipping option. Enter your payment information.
Special Order Instructions: If there's anything else you'd like us to know, you can use the notes section on the 'Review Order' page.